When King Jean II died his daughter Charlotte succeeded him as queen at the age of twenty-two.

Meanwhile, the Moslems had been advancing in all directions. The Grand Caraman, the Turkish ruler of Caramania, seized the opportunity afforded by a weak government in Cyprus to capture Courico, the last Latin outpost in Armenia, which had been in the possession of the Lusignans since the reign of Pierre I. The rulers of Syria and Cilicia, with the support of sultan of Egypt, formed a league for the conquest of Cyprus, which was only foiled by the fleet of the Hospitallers from Rhodes.
In 1453 the Ottoman Turks had expanded to the shores of the Bosphorus and invested Constantinople by sea and land. No help came from the West, and after a siege of three months the city was stormed by the janissaries. The last emperor, Constantine XI Palaelogus, fell fighting on the walls, and the Eastern Roman Empire came to an end.

While Queen Charlotte had the support of the nobility of the kingdom, Jacques, whose mother had been Greek, had the sympathy of the Cypriot population, and had been led to believe that his father wished him to succeed to the throne. But the barons were too strong for him, and Jacques, although archbishop, was not allowed to take part in the coronation. In 1459 Queen Charlotte married her cousin, count Louis of Savoy, and Jacques, seeing that his power was declining, broke into open rebellion and took refuge in Cairo. Presenting himself to the sultan, who was suzerain of Cyprus, Jacques complained that, though next male heir to the throne, he had been driven from the island, and appealed successfully for help to recover his inheritance.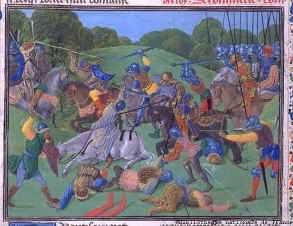 Jacques's supporters fighting with Queen Charlotte's supporters for the control of the throne and the island
In 1460, with a fleet of eighty Egyptian galleys, Jacques landed at Larnaca. The Cypriots, hating the Savoyards whom Charlotte's husband had brought to the island, received him gladly, and he was soon master of the island.
Queen Charlotte and her husband, Count Louis of Savoy, took refuge in the castle of Kyrenia, where they were blockaded for three years.
The castle, which was not actively attacked, was finally surrendered by the treachery of its commandant.
Queen Charlotte with her husband fled to Rome, where she died in 1487 after bequeathing her sovereignty to the house of Savoy.