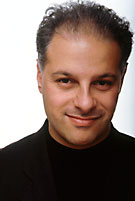 London born Turkish-Cypriot Tolga Kashif is regarded as one of the most diversely talented musicians of his generation, with success ranging from a critically-acclaimed CD of Richard Strauss tone poems to the musical direction of the BBC Children in Need's Platinum-selling single, 'Perfect Day'.

He studied conducting and composition at the Royal College of Music, then later at Bristol University with Derek Bourgeois. His professional début was with the London Philharmonic, after which he has been a frequent guest in this country with the Royal Philharmonic, City of London Sinfonia, Royal Liverpool Philharmonic, Northern Sinfonia and the Wren Orchestra. He was also Music Director of the London Amadeus Choir and in 1992 was appointed Associate Conductor of the National Symphony Orchestra, following a series of successful concerts with the orchestra in previous years, notably at the Barbican Hall.

Overseas engagements have included conducting the Polish National Symphony and the St Petersburg Philharmonic and he undertook a successful series of concerts at the 1989 Istanbul International Festival with the RLPO. In 1991 he was appointed Permanent Guest Conductor of the Presidential Orchestra of Turkey.
Since 1989 Tolga Kashif has been an established composer and a creative partner in 'The Music Sculptors', one of the principal music companies specialising in sound-to-picture, with numerous commissions from the BBC and all of the major broadcasters. Combining the roles of Composer, Conductor and Producer, he has worked with the BBC Symphony, Royal Philharmonic, BBC Scottish Symphony, English Chamber and National Symphony.

Among notable successes with The Music Sculptors are the composition, arrangement, conducting and production of the soundtrack for the award-winning animation 'First Snow of Winter', 'Where the Heart Is' for ITV and documentaries such as 'QED' and the BBC's 'Gulf War'. He has also written and performed many prominent advertising campaigns. 1997's 'Perfect Day' single featured artists such as Elton John, David Bowie, Bono, Lesley Garrett, Sir Andrew Davis, the Brodsky Quartet and Courtney Pine and led to the receipt of many accolades and media awards. Tolga Kashif was also co-producer of the number 1 selling début CD of Jane McDonald (from the BBC series, 'The Cruise').

Last year's highlights included the score of a feature film, 'The Criminal' released in Spring 2001 and available on DVD, and conducting the English Chamber Orchestra on a CD of guitar works. He also conducted the world premiere of his composition 'The Garden of the Prophet' with the ECO at the Barbican. This year he has composed two songs and arranged a third for Lesley Garrett's new CD on EMI. He has also written and conducted a new TV advertisement for Zurich Insurance with the Philharmonia Orchestra. He is currently working on a follow-up to 'First Snow of Winter' for the BBC; '2nd Star to the Left' will be broadcast on Christmas Day.