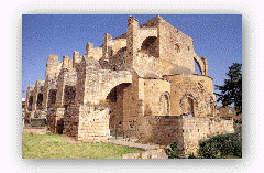 This was originally a church built in 1359 with funds donated by a successful merchant called Simon Nostrano during the reign of Pierre I.
In 1571 it was restored and converted into a mosque by the Ottoman Turks and was named after Sinan Pasha.


During the British Period it was used as a grain and potato store and, later as a junkstore. As a result of this it has also been known and called as the 'Wheat Mosque' (Bugday Camii).

In 1964 it was restored and used as a "Town Hall" (Halk Evi) by the Turkish-Cypriots. The building is now used as a public library by the Ministry of Education and Culture.



In the courtyard, adjoining this magnificent building can be seen the grave of Yeniceri Efendisi (Clerical dignitary in the Janissary corps) Mehmed Efendi whose grave stone gives the date of his death as 1724, in Famagusta.


Close this is also the tomb of 28 Mehmed Chelebi, a famous Turkish diplomat who was the Ambassador to France, of the Ottoman Empire in 1730, and who died in Famagusta in 1732. This famous literary diplomat of the 18th century,whose original name was Mehmet Faizi and was surnamed as 28 Chelebi in the Janissary corps he belonged, was accredited (in 1720) to the Turkish Embassy in Paris during the reign of Louis XV.

Eleven months later he returned to Istanbul. Later on, he was sent to Egypt to a private post. But after the rebellion of Patrona Halil in 1730 in Istanbul he was taken away of his post and was forced to go and live in Nicosia. In 1732 he died in Famagusta.