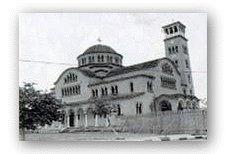 The Agios Ioannis Greek Orthodox church in Famagusta has been recently renovated and opened as an icon museum.
The museum, contains more than 120 icons, including those of Christ and Saint John, painted in the 18th century.
Agios Ioannis is the third icon museum in Famagusta, alongside those at St Barnabas, and Iskele.
The other icon museums in North Cyprus are:
Archangelos Michael Church (nr. Kyrenia harbour),
Bellapais Church Museum in Kyrenia, and
The Church of St. Mamas in Güzelyurt.