The main road from Nicosia to Famagusta docks passes alongside the Djanbulat's Bastion (Arsenale).
Djanboulat, the Squire (Bey) of Kilis in Turkey, was one of the high-ranking Ottoman soldiers in the conquest of Cyprus in 1570-1. He took part in all of the operations, and distinguished himself by his valour, especially in the capture of Nicosia. After the capture of Nicosia, the main army moved to Famagusta, the strongest point of defence of the Venetians in Cyprus, and laid siege to it on 18th September, 1570.
Djanboulat was among the officers commanding the right wing of the Turkish army, which was placed to the south of the walled city. According to an old legend about his martyrdom , Djanbulat Bey drove his horse on the big grinding knife which was mounted by the Venetians to the entrance of the Arsenal Bastion in order to prevent the advance of the Turkish Army. Thus he was martyred but the doors for the conquest of Famagusta were opened for his army. He was buried in the grounds of the same bastion, for which he had given his life and a tomb was erected over his resting place. The tomb has since been restored and it is a place of pilgrimage for Turks, ranking after the Hala Sultan (Umm Haram) Tekke at Larnaca.
The Museum
The precincts leading to the tomb have been converted into a museum in 1968 and it owns many fine examples of the Turkish folk art.
It is a large round tower made very conspicuous by the modern lighthouse perched on top.
Outside this tower and along the moat the Ottoman Turkish artillery were encamped in 1570 and it is from here that the town was bombarded. This is the reason why so many churches within the walls show damage on the side facing this spot. Fierce fighting went on here for nearly a year, as the visitor can see today with the gaping cavities along the walls and towers.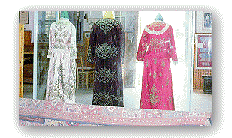 The Ottomans tried to mine into the tower at the base and the results of their efforts are still very visible. In spite of the use of gunpowder the attempt failed, owing to the great thickness of the walls and showers of missiles hurled from the battlements above. All around the moat, one can come across pieces of iron from carts and cannon and of course many cannon balls.
On the other side of the tower and inside the town is the Djanbulat Municipal Museum where visitors can see some relics of the battle, as well as old costumes worn, tools used, and books, including an invaluable hand-written Koran. Nearby is the tomb of Djanbulat Bey of Kilis, the Ottoman Turkish general, by whose bravery this tower was captured and hence named after him.